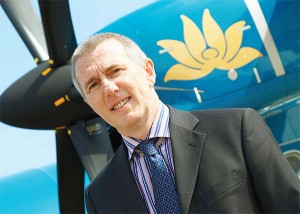 Soaring fuel prices are leading to renewed interest by airlines, particularly budget carriers, in turboprop aircraft instead of jets for short-haul flights, according the French-Italian producer ATR.
With crude oil prices expected to average US$110 a barrel this year, airlines are looking at turboprops because they use less fuel than jets even if they are slower, said Jerome Gabory, director for market strategy at the Toulouse-based concern.
"The market shares of turboprops and jets are really dependent on fuel prices. The higher the fuel prices the more market share for turboprops," he said.
On a 500-nautical-mile flight, an ATR burns about 20 kilogrammes of fuel per seat, compared to close to 30 kg per seat for a jet-engined aircraft of the same size, he said.
"A turboprop can save up to 50% in fuel cost for the shortest flight. … The shorter the flight the bigger the difference (in fuel burning) because it does not climb as high as a jet," he explained.
However, a turboprop is marginally slower than a jet. A short flight might take five to 10 minutes longer but the upside is that passengers can save $20-30 on the ticket price, Mr Gabory said.
ATR's research shows 50% of passengers worldwide take trips shorter than 500 nautical miles, and 30% take trips shorter than 300 miles. That works out to 600 million passengers per year on short-haul routes.
ATR, which has the largest market share in turboprop aircraft in terms of order backlog, at 70% of the world's total, is upbeat about the future of turboprops for short regional flights.
ATR, a 50:50 joint venture between Alenia Aeronautica and France-based EADS, believes the world will need almost 3,000 turboprops, estimated to be worth $70 billion.
Demand for cost-efficient regional aircraft, the expected increase in fuel costs and new environmental constraints in the EU Emissions Trade Scheme will put further pressure on airline costs over the coming years and favour turboprops.
About 60% of the 3,000 turboprops would represent growth demand and 40% for replacement needs.
The European producer recorded orders for 80 new aircraft last year, plus options for 33, doubling the previous year's order intake, as the aviation industry fully recovered from its slump.
ATR last year achieved turnover of $1.35 billion, almost three times the level achieved in 2005.
It envisages strong commercial potential in regions such as Southeast Asia, India and Latin America, where ATR has been able to establish a foothold in recent years, and also in other emerging economies. That is in addition to replacement potential in mature markets.
Since its inception in 1981, ATR, the leader in the 50- to 74-seat regional turboprop aircraft, has booked net orders for 1,074 aircraft.